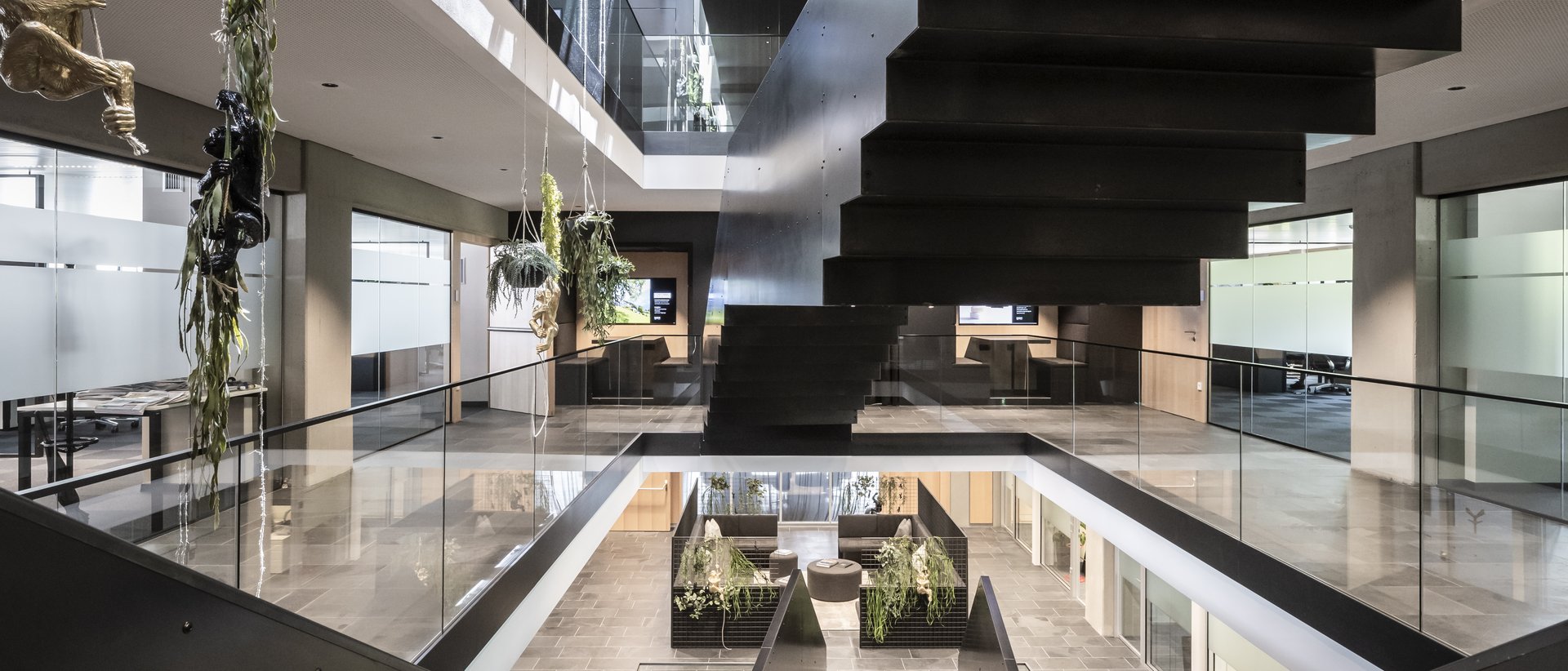 Iconic Awards: award for the Brandnamic Campus
Modern, stylish, creative, innovative – our campus impressed the Iconic Awards jury with its extraordinary concept.
Award-winning: the Brandnamic Campus
If you've ever visited our campus, you'll know: We place great importance on an open, attractive working environment. Together with the architects of G22 Projects, we've created an innovative creative centre in the midst of nature. Now, our campus has won an award at the ICONIC AWARDS: Innovative Architecture.
The ICONIC AWARDS
The ICONIC AWARDS: Innovative Architecture honour all-encompassing projects in the areas of architecture, interior design, product design, and brand communication. The winners are the most innovative, unusual, and stylish buildings from all over the world – including our Brandnamic Campus. Aspects that received special praise at the ICONIC AWARDS were the way the corporate identity was integrated into the interior design and the open working and meeting spaces.
Praise where praise is due: G22 Projects
In 2019, Brandnamic took over the building above Brixen, which was once a convent school. It was clear to the CEOs that the building had potential. Together with the architects of G22 Projects, the campus was transformed into what it is today: an innovative creative centre. We are delighted that the exceptional work of G22 Projects has been recognised at the ICONIC AWARDS.
Welcome to the campus
When you set foot inside our campus, you can see it right away: This is no ordinary office building. Instead, an impactfully styled lobby with reception and cosy seating areas opens up before you. As you move further inside, your gaze is drawn to the black cantilever steel staircase that leads upwards in alternating diagonals and forms the striking centrepiece of the building. Underneath it, water splashes peacefully in a pool decorated with little crocodiles.
Brandnamic's corporate identity is tangible throughout the building. That means black is the dominant colour: elegant, minimalistic, and yet – thanks to thoughtful free spaces and rooms with an open design – not too dark. Amusing details, like the ubiquitous monkeys, emphasise the creative spirit of the marketing agency.
Workplace of the future
The developers' vision was to create an innovative workplace. The idea of a traditional office was teased apart and redesigned. This led to rooms and hideaways for spontaneous meetings and creative breaks, as well as open-space offices. The campus features numerous seating areas, quiet corners, a library, an agency restaurant, a gaming room, and a fully equipped gym. True to the motto: Employees give their best in a place where they feel good.
Particular highlights are the extraordinary meeting rooms such as the Cocoon and the Cockpit, which impress with their top technical equipment and their unusual design. And of course, it wouldn't be a campus without an auditorium. Spread over two floors, the Othmar Barth Auditorium offers space for up to 90 people on stepped seating.