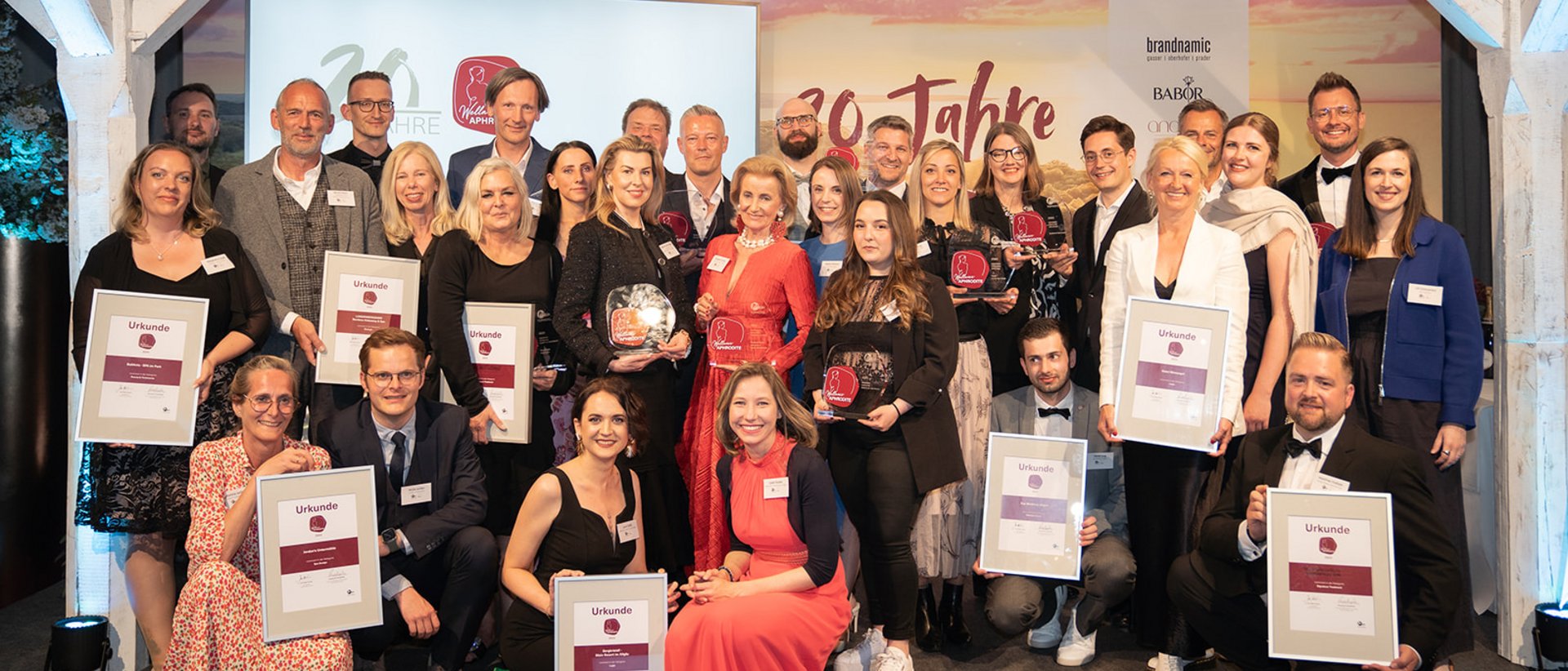 Glitz and glamour: the Wellness Aphrodite awards 2023
The wellness hotel industry's elite met in the magnificent Weissenhaus on the Baltic Sea to honour the best in their field with the coveted Aphrodite award.
The highlight of the spa year 2023: the Wellness Aphrodite awards
Reporting on 8 May 2023. The crème de la crème of the German-speaking wellness hotel industry has gathered at the magnificent Weissenhaus Private Nature Luxury Resort in Wangels on the Baltic Sea. Dressed to the nines and with a glass of Champagne in hand, they're waiting with bated breath for the highlight of the evening: the Tophotel Wellness Aphrodite award ceremony 2023.
Guests at one of Germany's most exclusive hideaways
The setting is truly breathtaking. Lush park areas, a stately, historic building, and the idyllic Baltic Sea – Weissenhaus is one of Germany's most exclusive hideaways. Hosts Natalie Fischer-Nagel and Frank Nagel are real luminaries of the spa scene. Last year, they won the Aphrodite for the best spa design. Today, they're providing the ideal venue for this glamorous event.
"A very inspiring place. It's a great feeling to come together as an industry here and enjoy an open exchange of ideas," remarked Michael Oberhofer, CEO of Brandnamic. Stephanie Ganterer, hotel coach and spa expert at Brandnamic, agreed: "A wonderfully inspirational event with people who bring something special to the table."
Trust and responsibility
Today, the most coveted trophy in the wellness industry is being awarded for the 20th time. But first, we listen to the inspiring keynote speech by Stephanie Ganterer and Michael Oberhofer, in which they promote trust and responsibility with a great deal of passion and a humorous presentation. They cover everything from leadership and the challenges of change and innovation to the required change of perspective that is needed to meet the responsibilities of our time with creativity and resilience.
No easy choice
The jury doesn't have an easy time of it this evening. The industry representatives as well as the journalists from specialist magazine Tophotel and travel portal meintophotel.de have inspected all the nominated establishments in person in advance. Now, they have to reach a decision on which of the nominees have the pleasure of taking the award home with them.
And the award goes to …
We're now reaching the highlight of the evening: the award ceremony. Cheers and appreciative applause fill the room. Impressive people and spa projects are being honoured across nine categories.
Brandnamic would like to warmly congratulate all the award winners and nominees!