Marketing that speaks to the senses
Full-service marketing for Sensoria Dolomites in Seis am Schlern



Sensory. Guest-centric. Extraordinary.
Our goal
To touch the senses and move the soul with tailor-made marketing – that's our goal. A goal that we share with Sensoria Dolomites, the new place of spiritual power in Seis am Schlern.
Our mission
At the foot of the mighty Dolomite peak, Lea Oberhofer and her husband Simon Leitner have transformed the traditional Ritterhof into a very special place of energy where the outer and inner worlds merge – with the help of creative marketing that speaks to all the senses.
Our tools for success
Naming and claiming | Hotel logo design | Employee logo design| Positioning concept | Hotel communication concept | Employee communication concept | Concept for the hotel shop | Hotel coaching | Social media concept and implementation | Website | Job landing page | Pre-opening landing page | Recruiting ads | Hotel ads and advertorials | Pre-opening marketing plan | Hotel marketing plan | Employee marketing plan | Korrespondenzmanager with Selfmailer and MiA | Newsletter system | joobz.it job adverts | Getavo | Zerberus | News interface | Offpage SEO | Flash sales | Social media shoot | Print materials: pre-opening catalogue, image catalogue, selfmailer, spa leaflet, guest amenities, stationery, employee handbook, labels
Awarded the Deutscher Agenturpreis (German Agency Prize) 2022 in the B2C category for the brand strategy of Sensoria Dolomites.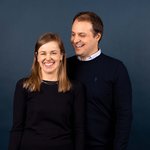 Lea Oberhofer and Simon Leitner
"Marketing by Brandnamic touches the senses and moves the soul."
"You can tell whether a brand knows what it stands for from the language it uses. That's the case with this project, that's what I wanted to convey with the texts – and it's only possible if the host family fully gets behind the concept. Creating a vivid picture in people's minds with just a few words is always a tricky but enjoyable task in this project."